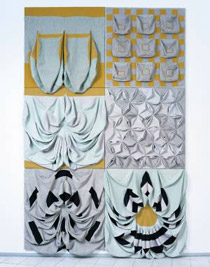 Knut Nievers
Grammar of Ornament
In a group of works that she has been working on since 1996, Silke Radenhausen,
who lives near Kiel, examines Owen Jones's book »Grammar of Ornament«,
which was first published in London in 1854. Jones collected ornaments from
throughout the ages in a kind of pattern book and makes these – absolutely in the
spirit of historicism and liberal competitive capitalism – available for Western
culture to appropriate.
Silke Radenhausen gives the following reasons for her fascination with
this book: »I am interested in the whys and wherefores of classification. All the
ornaments, regardless of their origin, are levelled out by the way colour and form
are treated, treated equally. (…) This seems to me to reflect a European pattern
of adaptation and affirmation … I use ›Grammar of Ornament‹ to ›exploit‹ that
pattern again, though using the grammar of geometrical-topological operation
that I have developed. My linen objects imitate the pattern plates, embody them
and make them into fetishes, a kind of double art theft.«
What Silke Radenhausen calls her geometrical-topological operation
could also be characterized as a critical re-actualization of the relationship between
aesthetic form and social norm. This connection may be uncritical in
Jones's imaginary museum of world ornament, but it is developed with all the
splendour of a goods aesthetic.
But this sensual availability magic is based on suppressing the historical
context. Owen Jones transports the anarchic order of ornament into an order
of the anarchic, i.e. places it in a ghetto and isolates it, in other words neutralizes
it. In contrast with the notorious-modern slogan of the »death of ornament«,
Silke Radenhausen's Grammar project works on re-infusing the regulated nature
of ornament with its original anarchy. (…)
Extract from Visus, issue 1/97, p. 35
http://www.radenhausen.de/
Joanna Klysz, Gramatyka ornamentu (Grammar of Ornament), "Artluk", 3/ 2007, S. 52-54.